Search in Groove GFS
I've recently briefly talked about
Blinkx
, which is a great tool for desktop search (not so great for web search). Well, the great thing about this tool is that it facilitates conceptual search across local files in your desktop. But, what I'm really excited about is that, at last,
I can now search full text across all files stored in Groove shared folders!!
After a few tests, I can confirm that after firing up a search, Blinkx will suggest links to relevant files which are stored and synchronised through GFS folders. Further testing also reveals that Blinkx indexes the full text within files in GFS folders; that is, if I have a file, say a pdf, that mentions in a paragraph "RAD environment", Blinkx will pick it up. Brilliant!!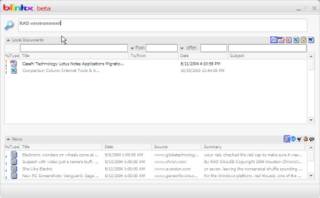 Blinkx in action
However, this cannot be achieved in Groove workspaces, simply because workspaces and the content within them are encrypted and unreadable to Blinkx or any other search engine. Hey, but being able to search across GFS folders is a blessing!
To all groovers out there, go and download Blinkx for free GFS search.